Greetings from the East!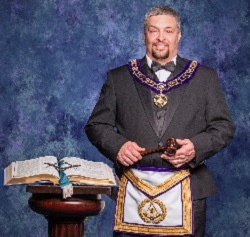 It is hard to believe this year Masonic year is already over half gone! This journey has been entirely as advertised and the honor that continues to engulf me seems to grow stronger every day. With that being said, I want to welcome you to the ND Mason home page, we are glad you chose to stop here on your "travels" on the Internet. This updates to this site are continually happening and we hope you check in often.
Here are a couple of items or topics I would like to share with you from my travels across our amazing Grand Jurisdiction of North Dakota!
SOTGJ: (State of the Grand Jurisdiction)
Brotherhood is alive and well! So far I have traveled from Hettinger to Williston to Langdon to Fargo to Bismarck and the story is the same wherever I go, the Brotherhood exhibited within our lodges is something to behold and most definitely something to experience. I am not only talking about the Brotherly Love, Relief and Truth that is regularly on display during special events such as fundraisers, installation ceremonies, table lodges or funerals, I am also noticing those same tenets exhibited when "no one is looking". Which only makes the experience that much more powerful and compelling. To those brothers I have shared experiences with so far this year, I want to express my thanks for your warm reception and wonderful hospitality. To those of you still on my list of "travels", I look forward to meeting with you in your home lodge and eagerly await the memories that we will create. Like I said in Medora, no matter where you go or who you meet in your travels, something memorable ALWAYS happens!!
Masonic Education
Over the years as I have traveled to different Grand Masters Conferences, it seems like the same theme reoccurs every time. We usually discuss: membership growth, retention, what do we need to do to attract younger men, what direction our lodges are heading and how we (Grand Lodge) can help them. This has not only happened during my year, but also for many others before me. While there is not one singularly correct answer for all of these topics, Masonic Education is one subject that can play a role in addressing all of these issues. As we looked at education and what we wanted our Festivals or Lodge of Instruction to promote this year, we focused on the tools needed to be an effective Warden in your individual lodge. The material was put together with the Wardens job in mind but also what he needs to do to prepare himself to be Master of the Lodge. Brother Fred Kitko, Director of Masonic Education has done a wonderful job and when you attend the Lodge of Instruction near you, you will not be disappointed.
Plans are being finalized for our next Grand Communication in Grand Forks on June 14th – 16th, 2018. We will be at the beautiful Masonic Temple and for those of you that have never seen it, you will be amazed. More details coming soon!
I cannot close this communication without saying how truly honored and humbled I am that you have chosen me to lead our great fraternity in North Dakota, Thank You!
Happy to meet…sorry to part…happy to meet again!
Mark Williamson
Grand Master
2017-2018