The Lighting of the Christmas Tree has happened again!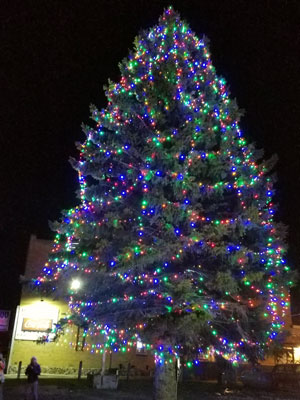 Thanks to Xcel Energy's Gary Vaagene (Area Lineman for Larimore area), the City of Larimore, Bremer Bank, Dr. Gillespie, TRH Pumping and the Larimore Community Action Committee. 
On Saturday, November 25th, the days holiday festivities will culminate with a Parade and a Special Guest performing the lighting of the Christmas Tree (by the Masonic Temple) for all to enjoy.
This year's celebration would not have been possible without the expert assistance of Gary and his lineman's vehicle.  With his vehicle he was able to get the lights to the top of the 60'+ tree that would not have been possible otherwise given the time and financial constraints this year.
Additionally, many thanks to the other sponsors for their very generous financial support to purchase the LED lights that will survive our weather for longer than one season.
We wish you all a Merry Christmas!
Thanks and Regards,
Mark Williamson
Grand Master