Greetings from the East!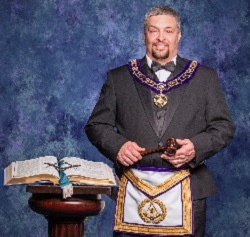 Welcome to the ND Mason home page, we are glad you chose to stop here on your "travels" on the Internet. We are diligently hard at work trying to make this page a "go to" source for all of your ND Mason activities and news.
Special Thanks to all who made the trip to Medora for our 128th Grand Communication. Everyone I talked to had a wonderful time whether they had golfed at Bully Pulpit, shot Trap in Dickinson or experienced the Medora Musical. I know that their enjoyment was made greater because you were there with them. Speaking of Grand Communication, I invite all of you to attend our 129th event in Grand Forks on June 14th – 16th, 2018. We will be at the beautiful Masonic Temple and for those of you that have never seen it, you will be amazed.
We are still working on the details of the education seminars or "festivals" for this year, however I can announce the central theme will be "Working with the Wardens". While the title might be a little misleading in the fact that the desired attendee is for those who either are, have been or want to be Wardens in their lodge. Pretty much is meant for everyone. Look for more information to come later.
I think this year is a great time to travel, after all, it is the 300th year of the United Grand Lodge of England and we need to celebrate their willingness to travel to foreign countries, work and receive Masters wages…oh, sorry…I got carried away. Back to traveling, I would like to encourage everyone to travel at least once this year to a neighboring lodge, or a different district or even to a different Jurisdiction. When you do this, you expand you light in Masonry by meeting your neighboring brethren, see how they do things in their lodge and gives you perspective in the way that you do things in your lodge.
The first time I traveled was to Langdon's International Past Master's night. I believe there were 5 or 6 of us piled into a suburban, drove the hour and a half and had a fabulous time.
I have traveled by myself or with a number of brothers, it doesn't seem to matter, there always seems to be at least one interesting or unique thing that happens on every trip. Not only does something interesting happen, you have the opportunity to meet brothers that you might not normally meet. If you travel to Men's Table Lodge in Portal just once and you have met and will always remember "Bud" Scheldrup. Any discussion on Men's Table Lodge would be remiss in my view if I didn't mention Goose River Lodge #19 in Mayville. While I will not go into the hilarious details on this post, I will gladly share with you the next time I see you.
I cannot close this communication without saying how truly honored and humbled I am that you have chosen me to lead our great fraternity in North Dakota, Thank You!
Happy to meet…sorry to part…happy to meet again!
Mark Williamson
Grand Master
2017-2018