Grand Lodge A. F. & A. M. of North Dakota
GRAND MASTERS MESSAGE
3rd Quarter 2019-2020
Grand Master Lowell Domier 2019-2020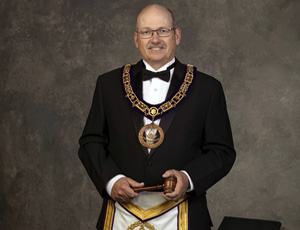 Hello Brothers!
Winter is soon going to be a memory and Spring will be all around us, bringing in a time of New beginnings and fresh starts. Our Lodges have been very busy this winter, putting on degrees in all corners of the State making good men Masons and setting them off on their Masonic journey.
We who are longer serving Masons should help them along by letting them know they are welcome, inviting them along on our travels to other lodges, and encourage our new brothers to take in all of our Lodge activities. This isn't just helpful for our new brothers, but could also help a brother who hasn't been active for awhile. Or one who could use friendship and encouragement through a difficult time in his life. It's who we are and it's what we as Masonic Brothers should do.
Many of our Lodges have recently installed their new Lodge officers or reinstalled as the situation calls for. I would like to thank all of our Lodge Officers, past and present for the time they have given to promote their Lodges and Masonry throughout North Dakota. I know sometimes it seems as though your efforts aren't appreciated, but they truly are. Where would we be without our Brothers who take care of the cooking and the kitchen, the Brother who repairs the back door of the Lodge, the Brother who gives a ride to another Brother who couldn't be at Lodge otherwise, or the new Lodge officer trying to learn his part in opening Lodge.
For you see every Brother has a spot, job or place in our Lodges no matter how big or small ( maybe multiple jobs ), and this is the heart that keeps our Lodges going. Maybe you don't think you've found your direction or spot in lodge yet, but I encourage you to keep searching ,and gaining lifelong Friendships along the way. Working together ( and playing ) as Brothers IS how we make each other better men and Masons.
The 131st Annual Communication Grand Lodge AF & AM of North Dakota, will be held June 11th- 13th of June 2020, in Devils Lake, ND. Hotel information and tentative schedule is printed in the Dakota Mason to help in your planning. I would encourage you to spend some extra time in the Devils Lake area ( I hear Fishing is popular), but please make your hotel reservations as soon as possible, as you know this is a very popular summer destination. For those Brothers who have thought about serving Masonry by working on a Grand Lodge committee or Officer please contact Tracy in the Grand Lodge Office or talk to a Grand Lodge Officer. As always we need your Lodge schedules of activities so we can place them on the Grand Lodge calendar, to view the calendar go to ndmasons.com.
Finally, on my travels throughout North Dakota ( and I'm far from done yet ), I've attended regular Lodge meetings, Table Lodges, International Lodges, Ladies at the Tables, Installation of Officers, Dedications, Degrees for New Brothers, and sadly to many Masonic Funerals. I've been present for the highs and the lows in Lodges, but one thing always remains the same, the Welcome feeling I have received from all of our Lodges & Brothers. Hopefully every Brother has the opportunity to visit their neighboring Lodges to witness how much they are the same and yet still have our unique differences. I look forward to seeing Brothers that I haven't met yet, and renewing old Friendships.
As always, Travel Safe Brothers !!
Fraternally,
Lowell Domier, Grand Master 2019-2020