Grand Lodge A. F. & A. M. of North Dakota
GRAND MASTERS MESSAGE
3rd Quarter 2021-2022
Grand Master Daniel Haugen. 2021-2022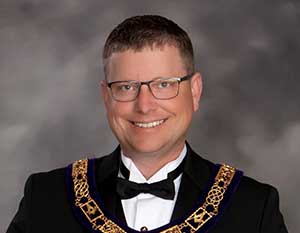 Greetings and welcome to the homepage of Freemasonry in North Dakota.  Freemasonry is centuries old and its earliest arrival in what is now North Dakota was Merriweather Lewis in 1804.  It wasn't until the 1860's that organized masonic organizations were formed, which was directly related to the U.S. Army soldiers that were stationed in our state.
Freemasonry is not and has not been a service club, unlike many others that were created in the late 1800's, early 1900's. Freemasonry is much more than that.
It is a close-knit brotherhood of men that believe in freedom of speech, religion, politics, and the betterment of and humanity. It is full of mystery and symbolism that mean and teach us all something different.
There are many sister or appendant bodies of freemasonry that serve their own purpose, some of which are for charity.
All these organizations have the goal of making each one of us better human beings and the world a better place.
Please fee free to reach out to us or go to https://beafreemason.org/ for more information.
Fraternally yours,
Danny Haugen
Grand Master