Grand Lodge A. F. & A. M. of North Dakota
GRAND MASTERS MESSAGE
Grand Master Lowell Domier 2019-2020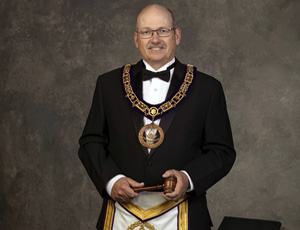 Hello Brothers!
It's an exciting time to be a Mason, rarely a day goes by that I don't see a reference to Masonry on Social Media, movies or television. The hard part for people who have a lack of knowledge of the Masonic Fraternity, is sorting out what is true and what is not. That being said, Masonry being the oldest and largest fraternity in the world, attention is pointed our way. We have men inquiring how to become a mason, most have done extensive research on and about us. It's up to ourselves to put this attention to good use, being knowledgeable in Masonry is a good start, and as always, on going. We want to bring good men into Masonry, how we are looked at and perceived in the future, will depend on how well we mentor and teach our newest Brothers.
Where we as Masons have met has changed over time, from the upstairs of a pub to a lavish temple. But our values have not, good moral character is something to be Proud of and to continually strive for every day. Where we meet isn't as important as why and how. As Brothers we encourage and support each other, by extending a hand, a kind word or a trusted ear to a Brother in need, or to assist a neighboring Lodge that may be in distress. We should all be proud to be Mason's in the present, by looking to our past for guidance and strength. But cementing our future, through new ideas, mixed with the Foundation placed by our predecessors.
Now that fall is approaching, many of our Lodge's from around the jurisdiction are coming from dark to light and setting their lodge trestle boards for the ensuing year. We have been working on keeping the Grand Lodge calendar up to date, but we need your help. Please send your lodge calendar in to the Grand Lodge office so Tracey can enter it on the calendar or get it to a Grand Lodge officer or myself. We would love to come to some events if we knew they were happening. You can find the Grand Lodge calendar on our website – ndmasons.com
Finally Brothers we are traveling men, please do so by visiting neighboring lodges, or helping with Degree work. Ask another Brother to join you or better yet, invite a brother who you may not have seen for awhile, he may not know how to become involved again.
We are all brothers from the newest to the oldest, and we stand Level with each other. How much we take from Masonry is up to ourselves, but how much we give to Masonry is up to all of us.
It's an Exciting Time To Be A Mason !! Travel Safe and I'll see you soon.
Fraternally,
Lowell Domier, Grand Master 2019-2020