Grand Lodge A. F. & A. M. of North Dakota
GRAND MASTERS MESSAGE
2nd Quarter 2020-2021
Grand Master William R. Wedberg Jr. 2020-2021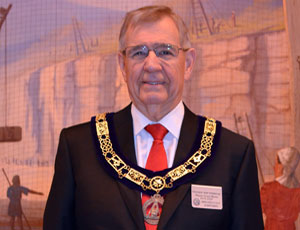 It is with a great deal of pleasure that I sincerely congratulate all of the newly elected and appointed Officers of the A.F. & A.M. of North Dakota, and thank those responsible for a most successful 2019-2020, especially MW Lowell Domier, PGM who guided us through the effects of COVID-19 during our Annual Communication on June 12-13, 2020 at the Fargo Masonic Center.
Additionally RW Daniel Haugen developed the electronic ballot and the ability to Live Stream proceedings throughout North Dakota - Thank you Danny. The electronic ballot will have the capacity to serve the membership in a variety of ways in the future.
One of the more intriguing aspects of the aspects of the Conference of Grand Masters of Masons in North America held in Louisville this past February was the introduction of a partnership between both Jurisdictions of the Scottish Rite and Shriners International – "A Partnership for the Future". BeAFreemason.org is more than just a website opening the front door to Freemasonry but is a Guide to the prospective man beginning his Masonic journey.
The website allows a referral to specific individuals within participating Jurisdictions who can act as mentors and sponsors. There is no direct communication between the partners and visitors to the site, only between visitors and the member Grand Lodge Jurisdiction. From a personal perspective, this partnership between appendant bodies is most encouraging and has the potential for vast improvements in our membership efforts.
As we experience these trying times, it becomes even more apparent that Brotherhood is the mainstay of our Fraternity, and it is encouraging to see our Lodges reaching out to their members and respective communities with Faith, Hope, and Charity. It is my honor and privilege to serve as your Grand Master for the ensuing year.
Yours in Masonry,
William R. Wedberg Jr.
Grand Master