Grand Lodge A. F. & A. M. of North Dakota
GRAND MASTERS MESSAGE
September 2018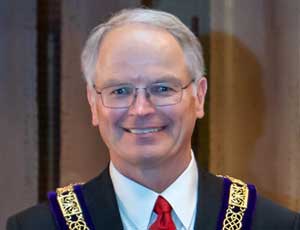 Brothers,
North Dakota's native son Eric Sevareid—one of the premier journalists of the Twentieth Century—once wrote that "North Dakota exists as a large rectangular blank spot in the nation's mind."
But he also wrote of the brotherhood that grew from the equality and interdependence of life on the sometimes harsh North Dakota prairie. And he entitled his autobiography Not So Wild a Dream, taken from the words of Norman Corwin, "Post proofs that brotherhood is not so wild a dream as those who profit by postponing it pretend."
When we go back to the basics of Masonry, these are the basics to which we return: enduring principles that belong to no age or time, a commitment to helping good men become better, and the not so wild a dream of brotherhood.
We need to share Masonry with more good men.
We also need to reach out to our Masonic brothers to more deeply share Masonry with them. We need to reach out to our brothers who are no longer able to get to our meetings. We need to help our brothers in need. I am asking every lodge to have a program of outreach to our Masonic brothers. And I am asking every brother to help.
In our ceremonies we talk about widows and orphans. The operative Masons who built the great cathedrals were engaged in dangerous work, and there were many widows and orphans. Although modern Masonry is not physically dangerous, it is a fact of life that most Masons are survived by their wives. We must be concerned about the widows of our deceased brothers. We need to reach out to them with caring hearts. Many lodges maintain lists of their widows. Others can compile the names by looking in their records and asking longtime members. I asking every lodge to have a widows night in this Masonic year.
Masons have always cared about youth. I am asking every lodge to have one or more youth programs in the coming year.
Support, start, or restart a DeMolay Chapter for young men 12-21 years of age.
Support, start, or restart a Rainbow Assembly for young women 11-20 years of age.
Hold a banquet to award scholarships and recognize achievement.
Promote the North Dakota Spelling Bee. North Dakota Masons are already the primary financial sponsor of the event that starts at the local level and leads to the state competition with the winner going to the national competition.
Promote the Know Your State competition. North Dakota Masons are the primary sponsor of this event. County winners compete at the state competition in Bismarck to win valuable scholarships.
Community Grants and Hometown Grants through our North Dakota Masonic Foundation are there to help.
Remember that Masonry is all of us. And all of us can make a difference!
Fraternally yours,
Dale V. Sandstrom
Grand Master