Grand Lodge A. F. & A. M. of North Dakota
Musings of the GRAND SECRETARY
Summer 2020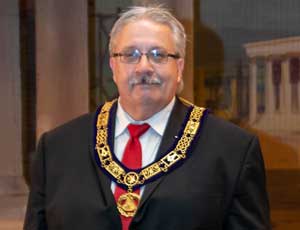 Brothers all,
"Freemasonry is needed today more than ever"
The COVID19 pandemic has changed our lives forever. If that is not enough, a heavy unrest looms over our country stemming from the George Floyd protests. Many of the protests have turned violent, creating racial tension in a time we all need to work together to overcome the health issues due to the coronavirus. People are uncertain of their future, both health and safety. Freemasonry shaped this country and it is our obligation to help maintain a peaceful society and lead by example.
The foundation of Freemasonry is Brotherly love, Relief and Truth; these principal tenants are the building blocks of the teachings of our beloved fraternity.
Brotherly love - Directed to mankind and especially to other masons.
Relief - We are obligated to aid and assist other masons who are in need and to act charitable towards society, giving of ourselves to better the common good.
Truth - Truth is a divine attribute and the foundation of every virtue. To be good and true is the first lesson we are taught in Masonry. We must be truthful in character and habits, men of honor.
Working within the craft is a great starting place, take time today and reach out, by checking on each other's well-being and safety. It is not always a financial need, making contact coupled with kind word can go a long way. Remember, it's what we each promised while taking our obligations. Take care of each other, it is who we are and what we do.
Sincerely and fraternally, 
Lon W. Kvasager, Grand Secretary
Grand Lodge A.F. & A .M. of North Dakota