Grand Lodge A. F. & A. M. of North Dakota
Musings of the GRAND SECRETARY
Oct 2018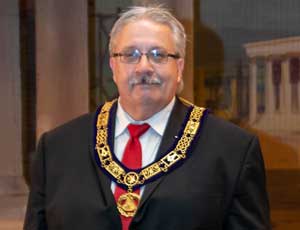 Brothers all,
A short recap of recent summer events -
The International Peace Garden Lodge was held on August 11th at the Peace Gardens with both the Masonic and Burdick auditoriums utilized. North Dakota was the host Jurisdiction with Most Worshipful Dale Sandstrom, Grand Master presiding. The keynote speaker was our very own Most Worshipful James Savaloja. Most Worshipful Brother Jim gave a very detailed and well-prepared PowerPoint on the early history of Freemasonry in the Dakotas and Canada, referencing Rupert's Land. Overall, it was a great day for North Dakota Masonry and well attended by our Brethren.
The Midwest Conference of Masonic Grand Lodges was held in Bismarck on August 17 - 18, 2018. The Bismarck Radisson Hotel served as the headquarters for the conference, with the meetings held at the North Dakota Heritage Center. Many who did attend stated the Conference was well planned and received, all North Dakota Masons should be proud. A big thank you is due to Most Worshipful Dale V. Sandstrom for a successful conference.
With summer behind us, we look to the majority of Lodges becoming more active. Make sure to forward your Lodge events to the Grand Lodge office to be placed on the Grand Lodge calendar.
The Membership Database committee reviewed 4 (four) different systems and recommend Grand View. With the Policy & General Purpose Committee approving, the data is now in the formatting stage and this system will be up and running soon. It will vastly improve the membership contact, not only from the Grand Lodge side, but from the local Lodge as well. Look for upcoming announcements.
A book called "The List of Masonic Lodges" sits in most Lodges. The book contains a list of all Masonic Lodges from around the world and whom they are chartered under as well as a list under each jurisdiction about which other jurisdictions each Grand Lodge recognizes. It is a valuable tool for investigating visitors as well as a guide for traveling. Let me talk to you about a new tool called Amity.
Amity is an app for your phone and something every "Traveling Man" should have. Amity supports Masons in 70 (Seventy) countries and 170 (One-hundred Seventy) Grand Lodges, built by Masons for Masons. Amity is partnered with the Masonic Service Association and the short talk bulletins can accessed with subscription. Amity also has features for the Lodge Secretary, digital attendance and secure communication for members. The Grand Secretary in each Grand Lodge Jurisdiction verifies all members. Amity is available now, on the App Store and on Google Play. Welcome to the digital revolution... it's about time. Here is the link http://amity.copiri.com/.
Always remember, if you have any questions concerning anything, do not hesitate to contact the Grand Lodge office or me. H t M - S t P - H t M A.
Sincerely and fraternally,
Lon W. Kvasager, Grand Secretary