Grand Lodge A. F. & A. M. of North Dakota
Musings of the GRAND SECRETARY
WINTER & SPRING 2020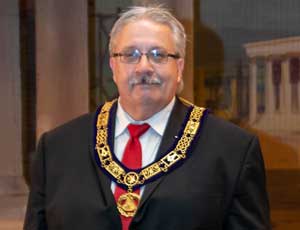 Brothers all,
There is no mistake as to what season it is here in North Dakota; one only needs to venture outside to be positive. One good thing about this time of year is that the majority of Lodges return to labor with community fundraisers, table lodges and degree work.
Our Grand Master, Most Worshipful Lowell Domier, along with other Grand Line officers have been busy traveling the frozen tundra visiting lodges throughout the state. Boy, do those guys sure get around.!
The calendar also triggers the time for the annual lodge reports. Most lodge secretaries are busy going over numerous files in order to complete the report on time. Note: I have heard from one secretary that using the Grand View Membership Management System made completing the annual report a snap. That brings me to my next comment.
Presently, we have 27 (twenty-seven) lodge administrators of the 45 lodges signed in with Grand View and some of those 27 (twenty-seven) have not signed in for some time. Doing simple math, this also means that 17 (seventeen) lodges have not and are not using Grand View at all. Perfect time for a Grand View commercial.
Grand View is a comprehensive web platform that provides an encrypted portal where Grand Lodge, Constituent Lodges, and individual members can communicate and interact online. If anyone is having trouble getting on Grand View, you can contact your District Deputy Grand Master or the Grand Lodge office. It is simple, even a "Craftsman in the Quarry" like me can do it. For those looking for training info, use this link to the Grand View website. https://grandview.systems/existing-client/.
Grand View holds Secretary Training Webinars three times a week. Please sign up a least 1 (one) day ahead.
Web based training sessions schedule (Central Time):
Tuesday – 10 AM
Wednesday – 10 AM
Thursday – 2 PM
If you have any questions concerning anything, do not hesitate to contact the Grand Lodge office or me.
H t M - S t P - H t M A.
Sincerely and fraternally, 
Lon W. Kvasager, Grand Secretary
Grand Lodge A.F. & A .M. of North Dakota