Grand Lodge A. F. & A. M. of North Dakota
Musings of the GRAND SECRETARY
July 2019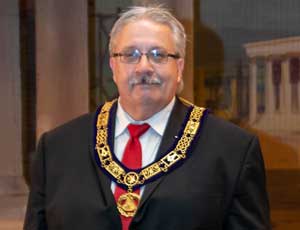 "Passing the Torch"
The Grand Lodge Annual Communication has come and gone. Those in attendance were treated to one of the most well organized GLAC in recent years. Grand Master Dale V. Sandstrom worked tirelessly to insure each scheduled event went off as planned. His goal was to have something for everyone, he delivered on that promise and exceeded everyone expectations.
Congratulations to Most Worshipful Lowell T. Domier, Grand Master and elected Grand Line Officers, Right Worshipful W.R. "Bob" Wedberg, Deputy Grand Master; Right Worshipful Daniel J. Haugen, Senior Grand Warden and the new kid on the block Right Worshipful R.W. "Rick" Wightman, Junior Grand Warden.
Also elected during the Annual Communicaton was Worshipful Darrin Galde (Policy and General Purpose committee), Worshipful Dennis Hansel (Finance Committee) and Worshipful Travis Cuypers, North Dakota Masonic Foundation. We look to these Brothers ("New Blood") to bring fresh ideas and energy to our Grand Lodge Committee and North Dakota Masonic Foundation meetings.
In addition, during the 4th Quarter Meeting, held on Friday during the GLAC, Most Worshipful Brian Burkett was elected to serve the North Dakota Masonic Foundation as Chairman for the ensuing year.
I like most of you, use the web for research. While doing so, I came upon a poem that spoke to me, reflecting the meaning of "Passing the Torch". It was my intention to locate the author requesting permission to include it in the message, but was unable to so.
Using the next best thing, I have included a link. Using the next best thing, I have included a link.
https://allpoetry.com/poem/10683171-Passing-the-Torch-by-Ryan-Hilt.
Happy to meet,
Sorry to part,
Happy to meet again.
Lon W. Kvasager, Grand Secretary
Grand Lodge A.F. & A .M. of North Dakota